Welcome to the Social Enterprise Accelerator site
This is a site about Bangor University's Social Enterprise Accelerator
Background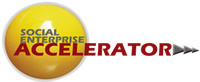 Social enterprises (SEs) are any enterprises that do not take profits out of a company but instead either reinvest the profits into the company itself, share such profits with shareholders in some equitable way, or use the profits to help further particular socio-economic goals.  SEs are one of the fastest growing areas of most western economies and, interestingly, are one of the few areas which seem fairly resistant to recessionary impacts.  A great number of private and public enterprises are currently looking to "spin-off" various parts of their enterprises into social-enterprises.  And, in terms of sustainability, SEs tend to be one of the most robust segments for sustainable business practises.
Our Social Enterprise Accelerator
In a pedagogical experiment, we asked for volunteers from the School of Psychology and the Business School at Bangor University.  Specifically, we explained briefly about the nature of SEs and asked for volunteers to participate in an eight week programme aimed at creating and/or accelerating social enterprises in the local area.  We had about 30 students show up each week for the entirely voluntary evening activity.  We structured the programme in such a way that it was clearly front-and-centre focused on getting students engaged in SEs and in getting the SEs "accelerated".   The students became passionate about working with SEs and we found the response of local SEs to be quite startling.  It seems clear that this programme could do a great deal to move SE activities forward.  And, this programme also represents a novel way of getting universities to work with elements of their local community – offering their resources out to organisations in need and, at the same time, creating new opportunities for students and improving the student experience.
Poster with Details 
See our poster presented at the International Enterprise Educators Conference (2013).  It is a big file, but we are proud of it.  And, it won second-prize at the conference.  
Contact
If you want to find out more or get involved in some way, please contact Professor James Intriligator.